Case Manager and Education Training Course
**UPDATE: We received a very generous sponsor of the Training Course, which has allowed us to offer the course FREE OF CHARGE! We expect the available seats to be reserved very quickly. You can sign up for the Full Course or individual weekends. Click Here to Register!
If you have already paid for your registration, we will be refunding your registration fee by October 7th. If you would like your fee, or a portion of it, to be donated to the support of the girls Together Freedom cares for, please let us know by emailing connect@togetherfreedom.org.
(Also, if you have registered for the Course but had a schedule change and cannot attend any given weekend, please email connect@togetherfreedom.org and kindly let us know so that we may provide your seat to someone else.)
---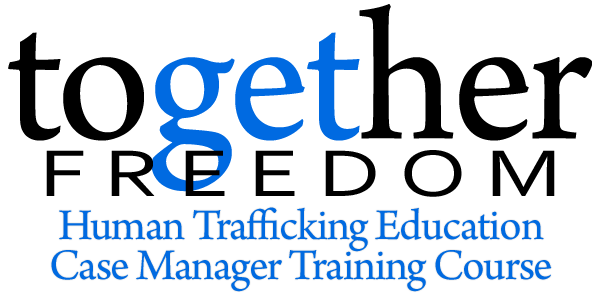 ---
4 Weekends
October 7-8, 14-15, 21-22, 28-29
Fridays 6:30 pm – 9:30 pm
Saturdays 9 am – 5 pm
Conference Center: Sheraton Hotel La Jolla, CA
---
Can you recognize the signs of a sexually exploited child in your community?
Would knowing the signs be important in your line of work?
Are you interested in a hands-on career helping victims rescued from human trafficking?

Register for our Human Trafficking Education & Case Manager Training Course coming in October, 2016.

---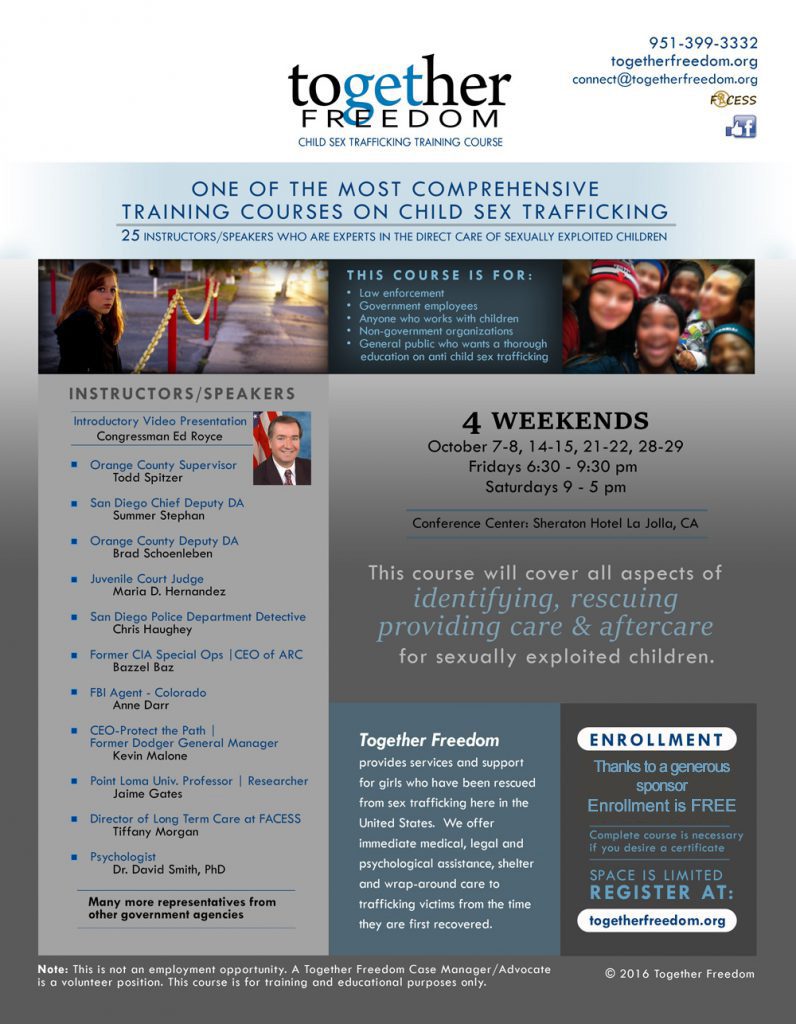 ---
The purpose of this course is to give extensive training on the rescue, care, and support for victims of child sex slavery. The curriculum for this course will be one of the most comprehensive available.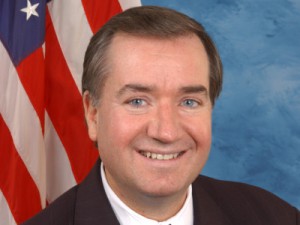 Featuring an introductory video by Congressman Ed Royce, the course will cover all aspects of Human Trafficking and will be taught by 25 CSEC industry experts who have hands on experience working with victims, such as:

The Department of Homeland Security
District Attorneys
Social Services
The FBI and other Law Enforcement Agencies
Juvenile Court Judge
Human Trafficking Task Forces and NGO's (Non Governmental Organizations)
…and many more, as well as a panel of former victims.
The course will be held in San Diego, CA at the La Jolla Sheraton Hotel every Friday night and Saturday starting October 7th, 2016, and will continue through the end of the month.
As seating is limited, we strongly encourage you to sign up soon!
Who This Course is For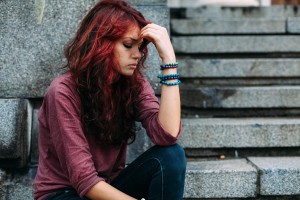 This course was created for those who are interested in case management for human trafficking and sexual slavery victims, as well as those who want to gain a comprehensive education about the problem of human trafficking in the United States.
Together Freedom has designed this course specifically for:
The general public who wants to know more
Law enforcement agents (probation, patrol, local, state, and federal)
Those who want to be directly involved with helping victims (e.g., case managers, facilitators, liaisons, etc.)
Students pursuing social justice, social services, and human trafficking degrees
Church leadership
Non Governmental Organization Volunteers
Our full course also meets most employment required training for human trafficking (e.g., schools, group homes, foster care, child care, etc.)
Course Schedule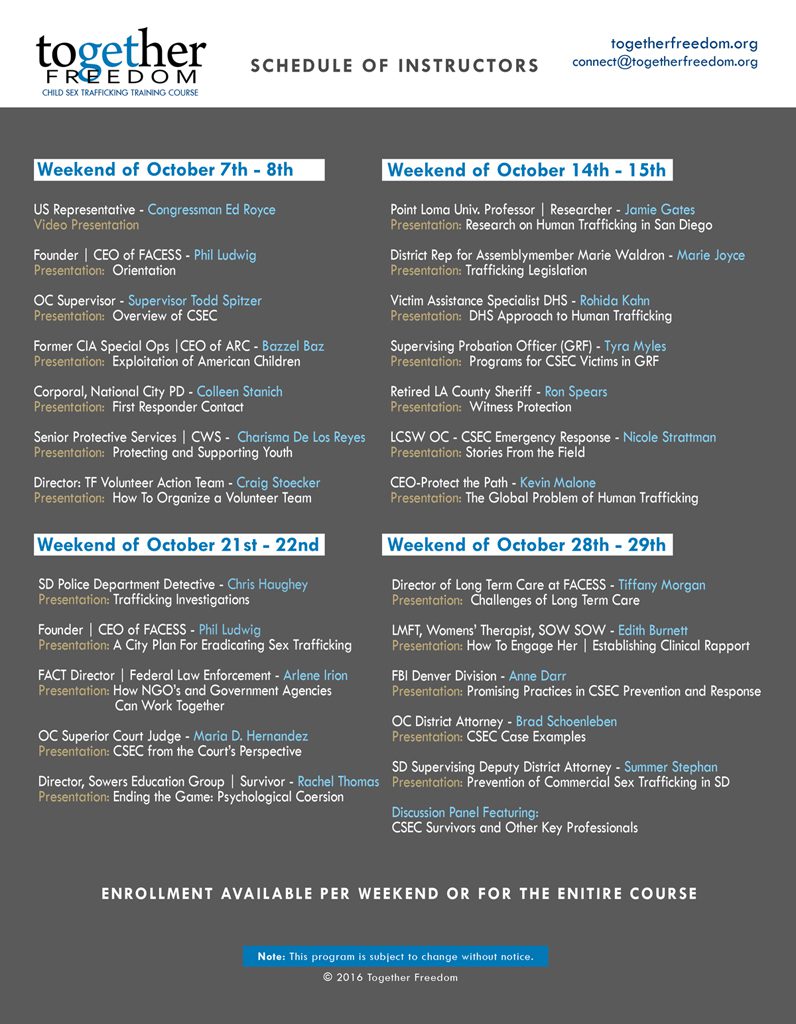 Course Location
La Jolla Sheraton Hotel
3299 Holiday Ct
La Jolla, CA 92037
Course Cost
The course has been sponsored by a generous donor, allowing us to offer the course FREE OF CHARGE!
Seating is limited and we expect the course to fill up quickly. We strongly encourage you to sign up soon!
As seating is limited, we strongly encourage you to sign up soon!

Note: This is not an employment opportunity. A Together Freedom Case Manager is a volunteer position. This course is for training and educational purposes only.